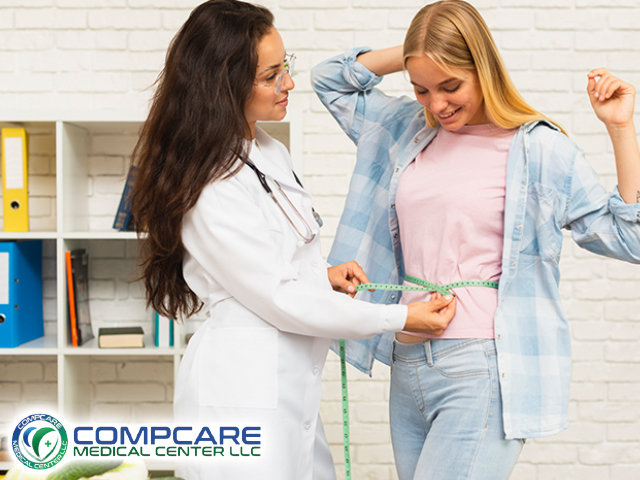 Weight Loss Service | Compcare Medical Center is a local company specializing in medical services including weight loss assistance and more. Contact us today to schedule an appointment.
Weight Loss Service | Expert Assistance
At Compcare Medical Center, we dedicate ourselves to empowering individuals on their journey to achieve and maintain a healthy weight through our comprehensive Medical Weight Loss Service. We base our innovative approach on a deep understanding of the unique challenges individuals face in their weight loss efforts. We commit to providing personalized, evidence-based solutions that produce sustainable results.
Thorough Assessment by a Team of Experienced Healthcare Professionals
To start, we acknowledge that no two individuals are alike. Our assessments consider factors like your medical history, metabolic rate, hormonal balance, and lifestyle preferences. This comprehensive evaluation forms the basis of a personalized weight loss plan that addresses your specific needs and goals.
Integration of Medical Expertise with Holistic Wellness Practices
Additionally, our services include various specialized treatments such as precision nutrition, hormonal balance assessments, behavioral therapy, and exercise guidance. This holistic approach ensures that we not only address the physical aspects of weight loss but also provide the tools to tackle psychological, emotional, and lifestyle factors contributing to successful, long-term weight management.
Ongoing Support and Guidance
Furthermore, our dedicated team of professionals walks alongside you throughout your journey. We conduct regular check-ins, assess your progress, and make personalized adjustments to your plan to ensure continuous progress toward your goals and positive transformations.
Commitment to your Well-being and Success
Ultimately, we prioritize safety and effectiveness by offering medically supervised interventions tailored to your individual health profile. Whether you're considering our precision nutrition programs, hormonal balance therapies, or a combination of services, rest assured you're in the hands of experts who genuinely care about your health and transformation. Our commitment to your well-being and success remains steadfast, and we're here to support you in every aspect of your journey.
Services:
Weight Loss
Physicals
Sick Visits
Lab Services
Telehealth
Substance Abuse Treatment
COVID-19
Addiction Treatment
Primary Care
FREE Medically Managed Weight Loss Consultation
Schedule An Appointment
Office is Wheelchair Accessible
Same Day Appointment
Outstanding Service
Weight Loss Service | Schedule an Appointment