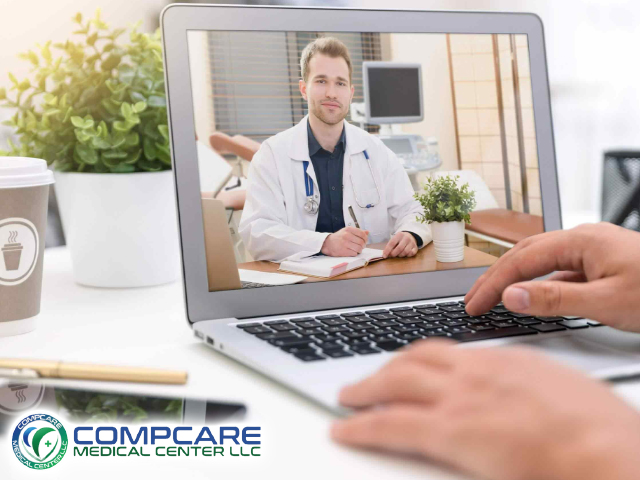 Telehealth Service | Compcare Medical Center is a local company providing expert medical as well as telehealth services and much more. Contact us today to schedule an appointment.
Telehealth Service | Professional and Experienced
Telehealth services have witnessed a significant surge in popularity in recent years, with virtual visits becoming increasingly common. This innovative approach to healthcare delivery has revolutionized the way patients and healthcare providers interact, offering numerous benefits and opportunities for both parties involved.
Convenience
One of the primary reasons behind the rise of telehealth services is the convenience they offer. Virtual visits eliminate the need for patients to physically visit healthcare facilities, saving them precious time and effort. Instead, patients can now consult with their healthcare providers from the comfort of their own homes, using video conferencing tools and other telecommunication technologies. This not only reduces the burden on patients but also helps to minimize the strain on healthcare resources and infrastructure.
Increased Accessibility
Another key advantage of telehealth services is the increased accessibility they provide. In remote or rural areas where access to healthcare facilities may be limited, virtual visits can bridge the gap and ensure that patients receive the medical attention they need. This is particularly beneficial for individuals with limited mobility, chronic illnesses, or those who live in underserved communities. Telehealth services enable these individuals to access healthcare professionals and specialists who may be located far away, thereby improving their overall quality of care.
Cost-Effective
Furthermore, telehealth services have proven to be cost-effective for both patients and healthcare providers. Virtual visits typically involve lower costs compared to in-person consultations, as they eliminate the need for travel expenses, parking fees, and other associated costs. For healthcare providers, telehealth services can lead to increased efficiency and productivity, as they can see more patients in a shorter amount of time. This can also help to reduce the waiting times for appointments and improve patient satisfaction.
Ease of Follow Up
Telehealth services have also played a crucial role in enhancing continuity of care. By enabling healthcare providers to remotely monitor patients' conditions and follow up on their treatment plans, virtual visits help to ensure that patients receive appropriate and timely care. This seamless integration between in-person and virtual visits promotes better communication and coordination between patients and healthcare providers, resulting in improved health outcomes and patient satisfaction.
Possible Challenges to Consider
Despite the numerous benefits, it is important to acknowledge that telehealth services also present certain challenges and limitations. Connectivity issues, technological barriers, and concerns regarding the security and privacy of patient data are some of the key challenges that need to be addressed. Additionally, not all medical conditions can be effectively diagnosed or treated through virtual visits, necessitating the need for in-person consultations in certain cases.
Telehealth Service | Same Day Appointment Available
Services:
Telehealth Service
Substance Abuse Treatment
COVID-19
Addiction Treatment
Primary Care
Weight Loss
Physicals
Sick Visits
Lab Services
FREE Medically Managed Weight Loss Consultation
Schedule An Appointment
Office is Wheelchair Accessible
Same Day Appointment
Outstanding Service